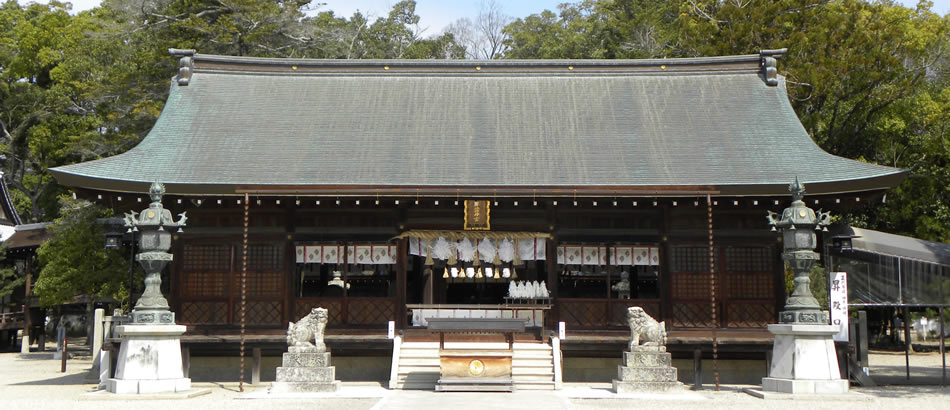 Awaji – the island at the heart of the Kuniumi Story (Japan's Creation Myth). An island apart, Awaji is where the Kamis (Shinto deities) Izanagi-no-mikoto and Izanami-no-mikoto stirred the physical world from on high with the Ame-no-nuboko, the holy spear, to give birth to Japan.
This is the Kuniumi Story (Japan's Creation Myth) which adorns the opening of the Kojiki (the oldest historical record of Japan). There, the Kojiki tells, the two Kamis Izanagi-no-mikoto and Izanami-no-mikoto churned the newly created chaotic mass below with the holy spear, briny drops dripped from the tip then solidified to form Onokorojima Island.
From Onokorojima Island Izanagi-no-mikoto and Izanami-no-mikoto procreated the Japanese islands, one by one, as husband and wife. The first of those islands to be created was Awaji.
The portrayal of the two Kamis churning the physical world with the holy spear and the salty drops falling to create Onokorojima Island corresponds with salt making, an occupation of the Ama. And the image depicted in the Kojiki of the physical world being churned by the holy spear into a whirl brings to mind the great whirling tides of the Naruto Strait, where the Ama have flourished.
As well as the world's largest whirling tides in the Naruto Strait, even today dotted on and around Awaji are numerous places from the Onokorojima Island legend, including, Eshima Island, Nushima Island, and Onokorojima Jinja Shinto Shrine.
Awaji Puppet Theatre Company is the age-old local keeper of the treasured Awaji Ningyo Joruri (Awaji Puppet Narrative), which derives from the Ebisu-mai (Dance of the Fishing and Shipping Kami), also linked to the Kuniumi Story (Japan's Creation Myth) .
This is the majestic story of the creation of heaven and earth inherited along an unbroken timeline of 1,300 years since the compilation of the Kojiki. Starting with the Kuniumi Story, Awaji Island continues to mark the passing of time on into perpetuity.

Warning: Use of undefined constant rand - assumed 'rand' (this will throw an Error in a future version of PHP) in /home/creators-s/www/kuniumi-awaji-en/wp-content/themes/jh_awaji/page-story.php on line 31

Typical routes